Transform Your Public Speaking Journey With:
90 Days to Launch
Take the Fast-Track to Mastering the Art of Platform Business in Just 90 Days
A program for both beginners new to the speaking industry, and those who have been around for a while but feel stuck or unable to level up their game.
Have you ever felt overwhelmed, unsure of where to start your speaking journey? Frustrated by constant roadblocks or intimidated by the sheer scale of the industry? We've all been there - you are NOT alone.
If you are you ready to launch a million-dollar speaking business and take the speaking world by storm, with just 90 days to go, it's your time to start taking action and making your dreams a reality!
You have a story that needs to be heard, a message that could inspire and inform millions, but you just can't seem to find the right path. The desire to make your mark in the speaking industry is burning inside you, and yet, the way forward remains unclear. This is why we created 90 Days to Launch – to empower you with the knowledge, strategies, and tools you need to launch your successful platform business.
Imagine where you could be in 90-days from now...
You're no longer lost in the maze of the speaking industry; instead, you've successfully built your platform. You're sharing your insights and inspiring your audience every day. You're a confident, accomplished, and recognized figure in the industry, all because you took the leap and trusted in 90 Days to Launch. AND you are making money as a platform speaker.
Meet Walter & Antoinette Bond
Walter Bond was a college basketball player who scored an average of 7 points per game and had ambitions to play in the NBA. In his senior year, Walter broke his foot twice. This caused him to doubt about ever playing in the NBA. Once he became determined to reach his goal, he made history. Walter Bond became the first ever undrafted rookie to start a season-opening game for the Dallas Mavericks. He went on to play for the Detroit Pistons and Utah Jazz. Today Walter is a Hall-of-Fame motivational speaker. Plus, he's a bestselling author, coach, and co-founder of a leading training & development company.
Antoinette Bond is the wife and business partner of Walter Bond. Antoinette is an entrepreneur with over 20 years of business leadership and development. Plus, she oversees the operations for their training & development company. This includes creating courses, books, videos, audios and other content. Plus, developing strategies to target corporations, associations and other prospects. Antoinette also provides one-on-one coaching, plus workshops to groups of people.
By joining 90 Days to Launch, you will:
Gain fundamental skills and strategies to build a successful platform business: Our program dives deep into the key components of a successful platform business. You'll learn strategies to accelerate the success in your speaking journey.
Develop a robust plan for your speaking career: We guide you in designing a step-by-step roadmap for your speaking career. This includes everything needed to give you a pathway to growth and sustainability as a professional platform speaker.
Get direct access to expert guidance from Antoinette and Walter: Our creators don't just hand you the course and disappear. They're actively involved and will answer your questions around, strategy planning, and speaker engagement. Their expertise in the area of building a platform business and public speaking will provide invaluable insights for your journey.
Learn at your own pace with our comprehensive and intuitive program: 90 Days to Launch is designed for flexibility and convenience. Modules are released weekly but you can learn at your convenience. Our strong advice is to ensure you go through, module by module and implement each concept fully before moving on to the next.
What others are saying...
"

I am very interested in self-development, so I always try to self-reflect and self-develop as a person. One thing that I wanted to improve on is my speaking skills because speaking skills can take you everywhere, whether that is a sales presentation, a keynote, or networking. And I can tell you I absolutely love this course! The analogies given really resonate with me, and I'm so grateful to be a part of this program.

"
Anthony Williamson
"

I've been speaking for maybe ten years, but a lot of it has been free or low pay, and I never, for some reason, ever thought about this as a business model.

 

You've taught me so much about the types of speakers needed for different categories, and how important it is to identify what type I am. I've learned to identify my strengths and talents so I can hit the ground running, and not to waste my time trying to be something I'm not."
Dtarelle F Tullis
The "90-Days to Launch" program offers the following features:
In this program, we will guide you through a step-by-step process to help you build a powerful and profitable speaking business. We'll help you identify your niche, refine your messaging, and establish yourself as a sought-after expert in your field.
In-depth lessons on platform business building: The program provides thorough lessons on the ins and outs of building a successful platform business. 12 powerful modules including training on your message, marketing, tools, pricing and selling and much more! The aim is to equip you with a holistic understanding of the platform business landscape.
Access to Q&A pop-ups for direct assistance: As part of the program, you gain access to regular Q&A sessions with Antoinette and Walter. These pop-ups are an excellent opportunity to clarify doubts, seek personalized advice, and gain insights directly from the experts. This interactive feature helps ensure you're on the right track and getting the most out of your learning journey.
A welcome strategy session with Antoinette and Walter: You will have the opportunity for a welcome strategy planning session with Antoinette and Walter. During this session, they will provide advice and recommendations tailored to your specific situation and goals. This approach enhances your chances of success and gives you an edge in your platform building journey.
Online Access: Enjoy convenient access to the course materials from any device with an internet connection, allowing you to learn at your own pace and on your schedule even though lessons are dripped weekly.
Exclusive membership area: By joining the program, you become a member of an exclusive community of like-minded individuals embarking on a similar journey. This membership allows you to engage in discussions, exchange ideas under each video lesson, and gain support from your peers, creating a rich and supportive learning environment that extends beyond the course.
To add even more value, and to give you the best chance of achieving success, we are including this bonus...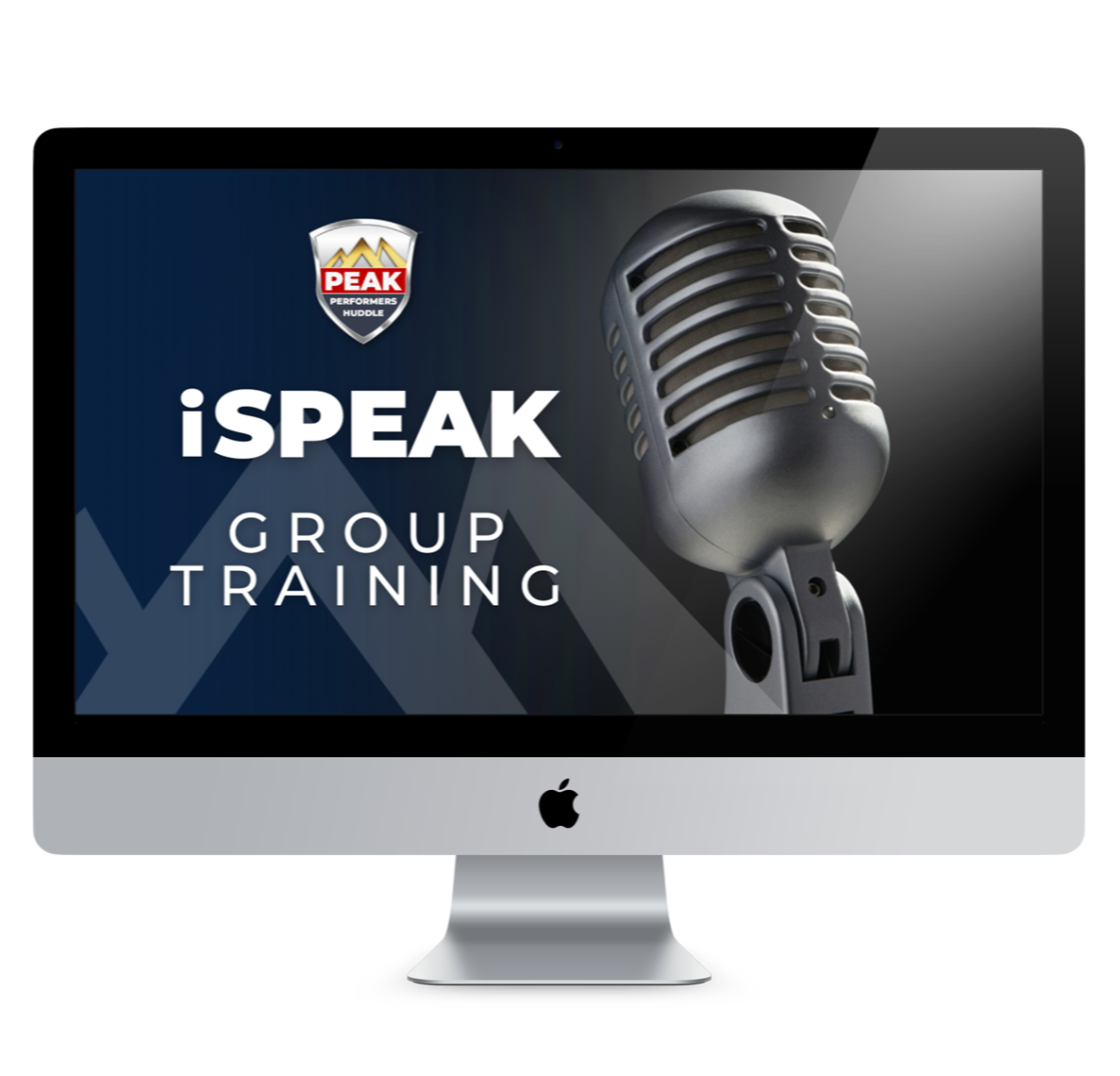 1 Year's Access to iSpeak
Join today and you be automatically upgraded to our iSpeak program upon completion of your welcome/strategy session.
Once a week on iSpeak, we coach you on everything that we have learned - including all the mistakes we made - to help you collapse timeframes to grow your speaking business as fast as possible. All you have got to do is commit, bring your gift and invest just one hour a week on iSpeak and we will do the rest. This bonus gives you 1 year of access to this program.
Become the Best Speaker in the Room!
Get Access to 90-Days to Launch Today!
What are you waiting for? With just 90 days to go, it's time to get started on your journey to launching a million-dollar speaking business. Let's do this!
IMPORTANT:
Please be aware that the availability of this program is limited. We want to ensure that every participant receives personalized attention, and therefore, can only accept a restricted number of enrollees. Don't miss out on this transformative experience! The next time you visit this page, the current program may be at capacity. Act now before you miss out.
Frequently Asked Questions...
What level of experience is needed for this program?
How much time do I need to dedicate to the program daily?
Is the cost of the program a one-time fee or a recurring subscription?
Don't miss out on this unique opportunity to fast-track your public speaking journey!